QUEEN WEST // Fashionable, entertaining & art-inspired
Make your way down one of the coolest streets in the world, named by Vogue, where fashionistas, foodies and artists find inspiration daily. A stylish shopping scene, speckled with vintage and antique shops, fabric and design stores, along with trendy restaurants, hip lounges and internationally-renowned venues for live music including the Cameron House, Horseshoe and the Rex. Further west walk the wild Graffiti Alley, pop into the Museum of Contemporary Canadian Art and get your fill of art (and cocktails) at the Drake Hotel or the famous art–inspired hotel, The Gladstone.
KING WEST // PARKS, GLITZ & PATIO-CENTRAL
Strut your stuff in an uber-cool area of town known as Toronto's SOHO. Full of fabulous nightclubs, dinner and dancing establishments, King West is also home to the Toronto International Film Festival where celebrity watching is a patio fave. A chic yet charming community, enjoy lush views on rooftop bars or leisurely strolls through Trinity Bellwoods Park or let Fido go off-leash in the hot spot, Stanley Park.
PARKDALE //// Parks, glitz & patio-central
Meander the "hippest West end hood" to discover a miscellany of culture, art and diverse flavour and flair. Super pedestrian-friendly, you'll find everything from the best ethnic eats, greasy spoons, vegan delights along with some of the top hot restaurants in town. A haven for vintage hunters, the latest indie fashion, and art galleries galore! Parkdale is where edgy and chic live in harmony with tranquil trails in Marilyn Bell Park or a quick bike ride to the Martin Goodman Trail along the waterfront.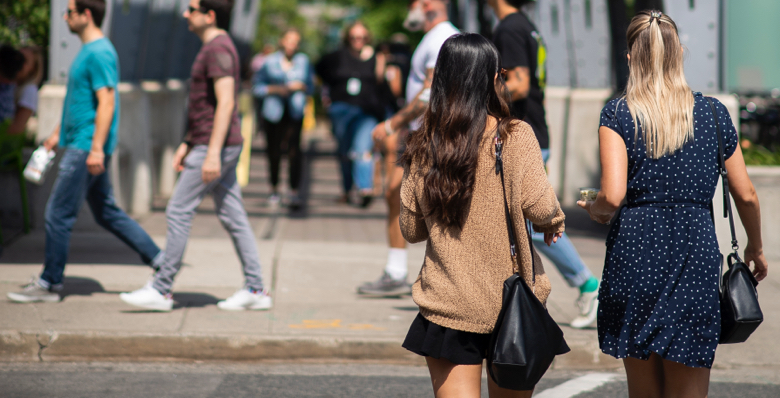 LIBERTY VILLAGE // URBAN, INDUSTRIAL & HISTORICALLY HIP
Discover a hot spot fueled by revitalization, where historic red-brick factories have been transformed into trendy restaurants, bars and galleries. A creative hub for furniture designers, filmmakers and artists alike, self-expression lives on every corner. Head over to Liberty Market Building, a 500,000 sq. ft. regenerated space booming with retail, studios, and a patio calling your name. Take a break on a bench at Liberty Village Park or hop on your bike over the new King-Liberty pedestrian cycle bridge and open up a world of possibilities.
Experience some of Toronto's best shopping conveniently located just a short walk, drive or transit stop away. XO2 is surrounded by unique pockets in the city that each house their own signature offering. From major brands like H&M and Lululemon, to small locally-owned shops and boutiques, everything you could need to live the Toronto urban lifestyle is here, waiting for you.